Specialty Systems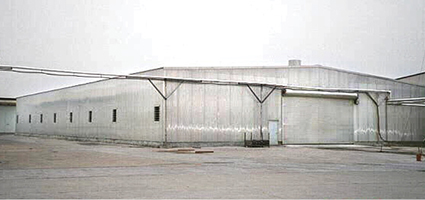 PREDRYERS
Does a Predryer suit your operation? Call the experts at American. Depending on climate, wood species, typical moisture content, inventory levels, site conditions an production schedules, payback may be shorter than you think.
Downdraft and cross circulation styles available
Improve quality
Lower energy costs
Increase production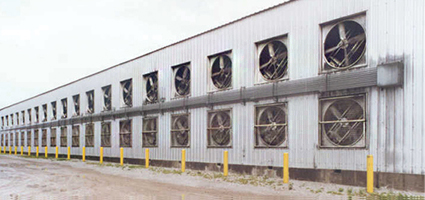 FAN SHED
Fan Sheds are similar to Predryers except there is no heat source. A Shed accelerates the air drying process while protecting the wood from sun, rain and other degrading elements. Used in combination with a kiln, a Fan Shed can reduce total drying costs.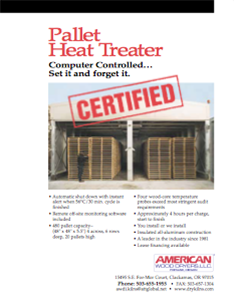 Pallet Heat Treater
Download PDF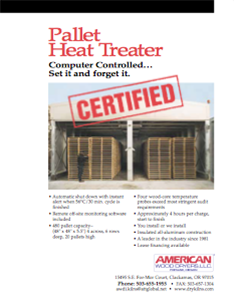 Pallet Heat Treater
Download PDF
PALLET HEAT TREATER
If you need is a heat treatment system contact the experts at American. We will build a system specific to your operation.
Temperature and sequential batch ID recording software for certification records
Improve quality
Internal wood probe sensors measure temperature at the core of the largest dimension samples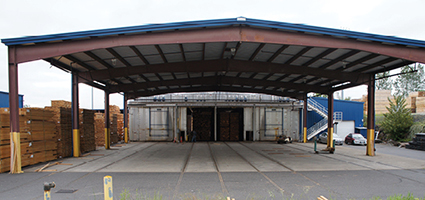 COOLING SHEDS
Protect finished product from the weather
Improve handling safety
STEAMERS
Set color in walnut and certain other wood species prior to the drying process. Talk to the experts at American to get the best quality out of your process.
Built with American's proprietary insulated panel system. Inner skins are typically type 304 stainless steel for years of low maintenance service.
Stainless steel boiling troughs and sparge lines.
Typical control systems include dry bulb RTD temperature sensors.
OTHER NON-WOOD APPLICATIONS
Simply too many to list. Call American and let's talk.